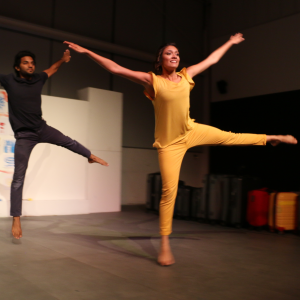 In less than a year since coming to Dubai, Neva and Raphael have performed and taught at The Madinat Theatre, DUCTAC, Sikka, The Fridge, thejamjar, L'Alliance Francaise, and American University of Sharjah.
It's an inspiring time in Dubai, as the performing arts begin to come alive in a new way that will shape the next decades of this city. Some projects are sponsored by the super-rich. But the smaller-scale financial support of individual donors is the essential foundation of performance culture.
Starting in the fall, Neva Raphael and Loom Ensemble will launch in to a full season of theatermaking. We'll be teaching interdisciplinary workshops, individual classes in dance, music, and theater. We'll be performing new shows through collaborations with local artists, and visits from international guest artists.

Help us make it happen! Can you or someone you know donate to support artists and cover production fees?
Contributions this summer will fund the creation of a new performance, to tour the UAE in October. If you feel inspired and able to support this work, then it will be thanks to your generosity when this production arrives in Dubai.
This is a chance to make a difference in your community, to help build a creative outlet for adult learning and expression, and to invest in Dubai's cultural growth. Let's make art. Join us in our devotion to creativity, and community, and celebration!
Please be in contact with any ideas about how you'd like to participate and what you envision! This will be full-time work for both me and Neva next year, and our top priorities are about building community, responding to the interests and needs of people involved, and making relevant, refreshing, rewarding art.
The residency in Italy is a fantastic opportunity, but not without substantial additional costs to cover. We are happy to share all the budget details if you are interested in donating and wonder what exactly needs to be covered. The completion of that 2 person performance will launch us into a full season of artistic activities in Dubai, and we are already deep into planning!