Weaving togetherness.
Loom (noun):
-ancient technology associated with the goddess
-used for weaving disparate linear elements into a singular, cohesive form
-necessary both for meeting basic needs of shelter/protection, and for ceremonial, spiritual and/or magical purposes
Ensemble (noun):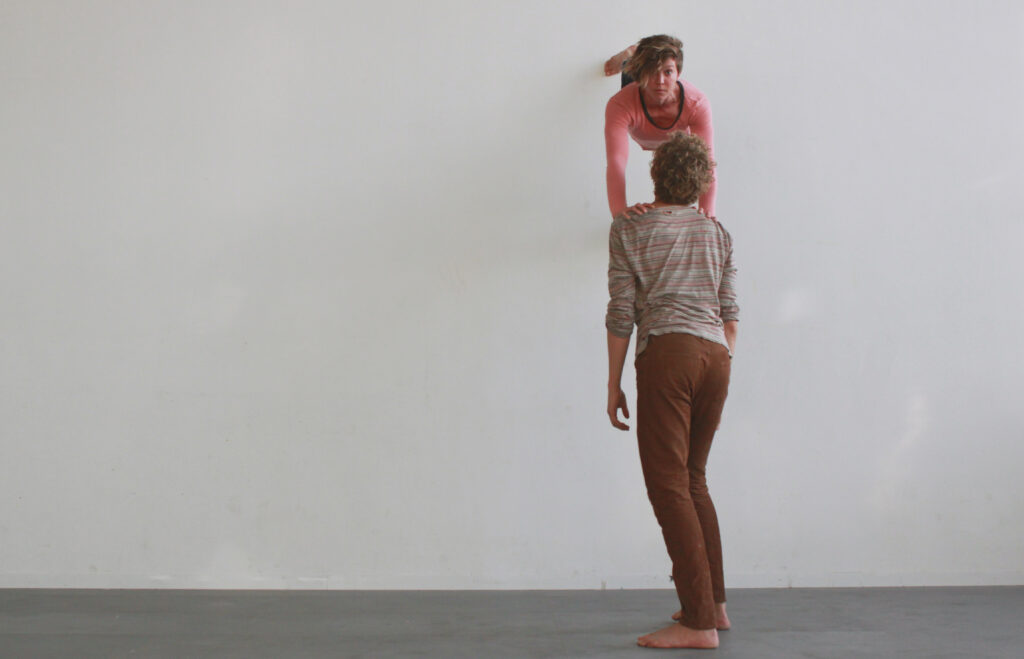 -literally "together"
-a collective, a group of individuals acting as one, centering shared values instead of individualism
For 10 years now,
Loom has been devising interdisciplinary theater for culture shift. We use our performances to open difficult conversations, and then facilitate community discussion to unpack the emotional vulnerability and cultural taboos of each show. In that shared space, the social value of art made from a place of deep integrity becomes clear: our actions matter, new ways of living are possible, together we can build a more loving world.
As a direct response to broken patriarchy, lonely individualism, and shame-inducing capitalism, our performances to call audiences home to themselves and their communities. Our work is to reconnect with the earth, with emotional integrity, and with eachother. Come, let us remind you of your inherent goodness.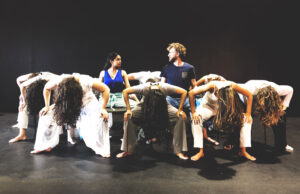 Performances:
Loom Ensemble devises "dance-theater" in the most literal sense, using character, story, and dialogue to ground abstract dance in emotional specificity; and using full-bodied contemporary choreography to deepen the resonance of our narrative storytelling. Mix in group songs to connect the body of the performer with the hearts of the audience, and you've got Loom Ensemble's interdisciplinary approach to live theater.
And then, we take it on the road, with teaching and performance residencies from NYC blackboxes to stone monasteries in Italy, repurposed industrial warehouses in Dubai and back to the fields and forests of Vermont.
Materials:
Our visual and design aesthetic values found objects, recycled materials, and organic materials — from river stones and wild flowers to cardboard, string and industrial waste materials. We find magic in the natural elements and everyday objects. In our props, costumes and sets, we are shaking free from habitual patterns of extractive relationship with the earth. We see this act of bringing eco-activist values onto the stage, as a form of cultural advocacy, to point at new ways of entering into regenerative relationship with the planet.
Creative Process and Ensemble Training as tools for Culture Shift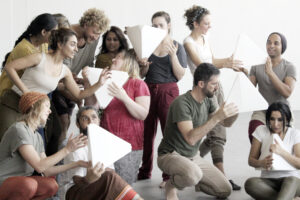 In our performances and training, our rehearsal process and classes, we are working from the inside out, to unlearn systems of oppression that live in our interpersonal relationships and within our individual bodies. Onstage, we know our audiences can taste the culture of the rehearsal room–in this way process and product are not separate–and so we care for our working environments with the same careful intention and integrity we bring to our performances.
Loom Ensemble physical training seeks to unravel body shame, and shake loose the default culture's twisted definitions of "beauty" or "strength". With our performers and students, we practice unwinding conventional gender roles, the body-shame industrial complex, and extractive / dominator attitudes towards the earth, all through the embodied practice of voice and movement. From this place we can begin to make art that helps heal our world, performances that are vulnerable and human.
Rehearsals and training occur in an environment of daily meditation, land-based spiritual practice and ceremony, "personal check-in" group process, and shared meals. Our long-term residency at the Art Monastery supports our commitment to training artists and developing performances that help build the more beautiful world our hearts know is possible, rather than spinning our wheels in distorted ego and emotional reactivity.
Loom Ensemble's interdisciplinary training call on the full potential of embodied performance; voice, movement, heart. We sweat and effort, sing and harmonize, devise and play, and weave it all together by exploring performance practice as a discipline unto itself.
Since Loom's inception, the company has been grounded in ongoing training as a part of the creative process. As a result, our Teaching Residencies are sourced in the richness of ongoing research, embodied knowledge, and experiential expertise–not some hypothetical or theoretical concept.
OUR CORE TEAM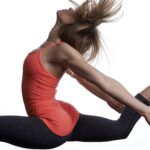 Neva Cockrell is a writer, director, and performer who uses dance-theater as a tool for social change. She joined Pilobolus in 2016 and began serving as Dance Captain in 2017. With Pilobolus she has toured to Germany, Austria, Switzerland, China, Mexico, Israel, Saudi Arabia, and Dubai. In 2010 she co-founded her own interdisciplinary company, Loom Ensemble, and has toured new work and taught in US, Europe, and UAE. In addition to touring the world as a performer and director, Neva runs the Art Monastery, an artist collective and contemplative community in Vermont. She has been teaching embodiment practices for over a decade, including opening Physique 57's first international studio in Dubai and developing her own movement technique, Catalyst Training.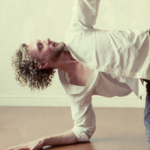 Raphael Sacks is a voice and theater artist from NYC.
Outside Loom, Raphael currently devises ensembl e performances with: Constellation Chor (recently Lincoln Center NY Philharmonic, Harvard University, Judson Church, upcoming monthlong residency at Pioneer Works and performances at Symphony Space); and Sandglass Theater (as a collaborator/performer and Music Director of "Babylon: Journies of Refugees" touring with extensive support from National Theater Project, Doris Duke, and the NEA.) He has performed internationally in Sweden and the Netherlands, in London with English National Opera, and Italy with the Art Monastery project. NYC appearances include Lincoln Center with Urban Research Theatre, BAM with Meredith Monk, and La MaMa with Loom. www.RaphaelSacks.com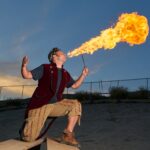 Michael Bauer is an actor, singer, circus performer and theater maker. He earned his BFA in drama at NYU Tisch school of the arts, and his MFA in acting at UCLA. After graduating he performed in musical theater shows around the country at different regional houses including Goodspeed Opera House, Weston Playhouse and Totem Pole Playhouse. Driven by the need for a greater agency over the art he put into the world, Michael then teamed up with fellow collaborators to from Loom Ensemble, a collaborative theater company with whom he toured productions in New York, Italy and Dubai. He has been awarded artistic residences with Art Monastery project, and the MUSE Brooklyn where he performs and teaches workshops in clown theater. Michael also specializes as a circus performer with the Cyr Wheel apparatus, and he is co-founder of the circus company Svindelic Circus Troupe. www.MichaelChristopherBauer.com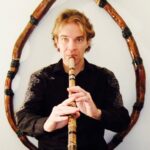 Sasha Bogdanowitsch is a composer, vocalist & multi-instrumentalist whose work ranges from music for theater, dance and film to interdisciplinary performance and original songs. He is a co-founder of World In One, a non-profit arts organization, as well as an original founding member of Loom Ensemble, Moving Star Vocal Ensemble and folk trio, Up At Dawn. Previous collaborations include: Meredith Monk, Lou Harrison, the American Festival of Microtonal Music, Sabrina Lastman, Christopher Blasdel and Erdem Helvacioglu. Sasha has performed worldwide and throughout the New York City area in venues such as: Carnegie Hall, Whitney Museum, Symphony Space, BAM, Roulette and the Stone. www.movingstarvoices.org, www.upatdawn.net, www.timbretree.com, www.worldinone.org