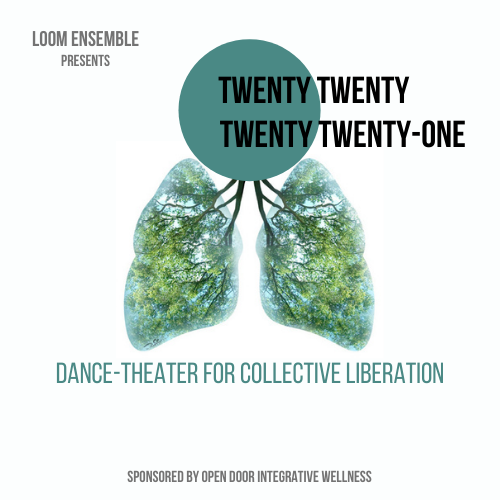 Vermont-based Loom Ensemble has gathered a professional team of dancers, singers, and theatermakers to pod together on the banks of the Connecticut River and devise an outdoor performance to share with local community here in the Upper River Valley, in partnership with Open Door Integrative Wellness of White River Junction.
Join the FB Event Online
Click here to Purchase Tickets

Twenty Twenty: A sort-of-chosen family watches the news. Wildfires choke the air, police steal breath, and disease invades the lungs. Can your lizard-brain tell the difference between the national threat of fascism and low-grade personal conflict in our own isolated household? Mine can't. Twenty Twenty-One: We are coming back together, to heal through song and laughter, and dance-into-being a more beautiful world.
Twenty Twenty / Twenty Twenty-One moves the grief up and out, to mourn the intersecting crises of 2020 and collectively imagine the better world we want to steer toward (far from "back to normal"). This movement initiates from the lungs as the site of interconnectedness, the organ of grief, the target of covid infections, the choke of wildfires, and the cry of social (in)justice: "I can't breathe." Lush visual design, and the nourishment of participatory ceremony and song returns us to our rightful selves, kitting together audience and performers as we live-into being the more beautiful world our hearts know is possible.
Performances this summer at:
Lyman Point Park
White River Junction, VT
July 10th, 11th, 6pm
Hubbard Park
Montpelier, VT
July 16th, 6pm
and Putney/Brattleboro
(location TBD)
July 17 and 18, 6pm